2016 Thema
Omnichannel 
Inspiration
Donderdag 7 april 2016
Media Plaza Utrecht
Save the date
In 2016 viert What's going on in (R)etailing?! haar 25-jarig jubileum. En dat gaan we uitgebreid met jou vieren!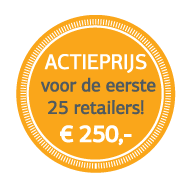 Noteer daarom 7 april 2016 alvast in je agenda!
Ook in 2016 staat het programma in het teken van Omnichannel. Een kleine tip van de sluier:
Inzicht in de wereldwijde trends door Sucharita Mulpuru (VP & Principal Analyst, Forrester Research, USA)
Intensieve Boot Camps waaronder: eCommerce optimization, omnichannel supply chain, Big Data, Customer experience etc.
Innovatieve retail startups
Ted talks en diverse rondetafelsessies, discussiepanels, CEO-Perspective on Omnichannel, 1-op-1 meetings en heel veel fun!
Eerste keynote sprekers bekend
Philip Mountford
CEO, Hunkemöller International  
Waarom ruim 500 retailers & fabrikanten jaarlijks WGOIR bezoeken?
Het congres What's going on in (R)etailing?! is onmisbaar: de retailsector ontmoet elkaar in een informele sfeer en je hoort van nationale & internationale koplopers de toekomstvisies en best practices.
1. Top level netwerken
Vergroot je netwerk en ontmoet retailcollega's op niveau.
2. Nieuwe retailinzichten
Je  gaat naar huis met concrete business-ideeën, verzameld n.a.v. de retailgerichte presentaties en workshops
Je wordt geïnspireerd door koplopers uit de retailsector, je leert van hun ervaringen en best practices!
Je krijgt nieuwe handvatten & ideeën rondom de kansen die het digitale retaillandschap jouw retailorganisatie kunnen bieden
3. Retailinspiratie
Van koplopers en visionairs, uit zowel binnen als buiten de retailsector.
Een greep uit de 500+ bezoekers van WGOIR 2015 :
(Retailers, fabrikanten en brands)
Ahold, Action, Amazon, Bakker Bart, Bol.com, De Bijenkorf, Hunkemoller International, Primera, ETOS, The Sting, Tommy Hilfiger, Vodafone, Levi Straus, ToysXL, Supertrash, Goossens Wonen en Slapen, Mc Gregor, Coolblue, La Place, Omoda, Van Haren, Beate Uhse, Hunkenmoller, Jan Linders, Esprit, BCC, Riviera Maison, Bruna, Subway, Cool Cat, EmTé, Maxeda, Plus, Intratuin Nederland, Woonboulevard Poortvliet, Makro Nederland, Koninklijke Auping, Gamma Nederland, Foot Locker Europe, Vrijbuiter, G-Star Raw, Bike Totaal, Van Neerbos Bouwmarkten, Xenos, MS Mode Nederland BV, McGregor Fashion Group, Hornbach, Vomar Voordeelmarkt, Van Bommel Schoenen, Praxis, Colruyt, Amsterdam Airport Schiphol, Kleertjes.com, BAS Group, Marktplaats Zakelijk, Danone, Coop supermarkten, Witteveen Mode BV, Neckermann.com, Macintosh Retail Group, Wehkamp.nl, KLM Royal Dutch Airlines, Dille & Kamille, Bart Smit, C1000, vanHaren Schoenen, MultiVlaai Retail B.V., Jumbo Supermarkten, Media Markt, NS Stations, Lief! Lifestyle, DA Retailgroep, Euretco, Etam Groep B.V., Google, ANWB, Heineken, Studio 100 Nederland, Beslist.nl, SPAR Holding B.V., Plus Supermarkten, A.S. Watson Health & Beauty, Blokker, Dr. Oetker Nederland BV, Pearle Benelux BV, V&D, Rituals Cosmetics, De Efteling, Urban Outfitters Group, Van Boxtel hoorwinkels BV, Riviera Maison, Bruna BV, WE Fashion, Kwantum, Fatboy the original BV, Akzo Nobel Decorative Coatings, HEMA, Intergamma, Noppies, Ziengs, Praxis, Beter Bed, Macintosh Fashion, Samsung Electronisch Benelux b.v., Wolkyshop, Vomar Voordeelmarkt, The Bodyshop Benelux, Hornbach, Philips Consumer Lifestyle, Mondial Keukens Benelux BV,Crocs, Omoda Schoenen b.v., Difrax, Fleurop Interflora Nederland BV, Dr. Oetker Nederland BV, Booking.com, LG, Agri Retail, Score Group, etc.