The [New] Retail Reality
Tijd voor een reality check! Je voelt de hete adem van Azië in je nek terwijl je balanceert tussen de hoge verwachtingen van [nieuwe] consumenten en stijgende kosten. En moet je nu wel of niet samenwerken met Marketplaces en hoe transformeer je het huidige winkelbestand naar relevante Future Proof stores? Maar je bent niet alleen!
What's going on in [R]etailing is een strategisch congres voor Retailers & Consumer Brands en dé plek om inspiratie op te doen en van elkaar te leren. 7 oktober 2021 stond in het teken van de [nieuwe] retail realiteit!
Naast inspirerende presentaties & interactieve ronde tafels stonden er ook een leertrack met verdiepende workshops en Start Up Track op het programma.
Op 29 september 2022 is What's going on in [R]etailing?! terug.
Zien we jou ook?
In 2021 stonden de volgende sprekers op het podium

Carsten Keller
Vice President Direct-to-Consumer, Zalando

Jan Baan
COO, Omoda

Tim Hehenkamp
Executive Director Technology & Data, Jumbo
Sfeerimpressie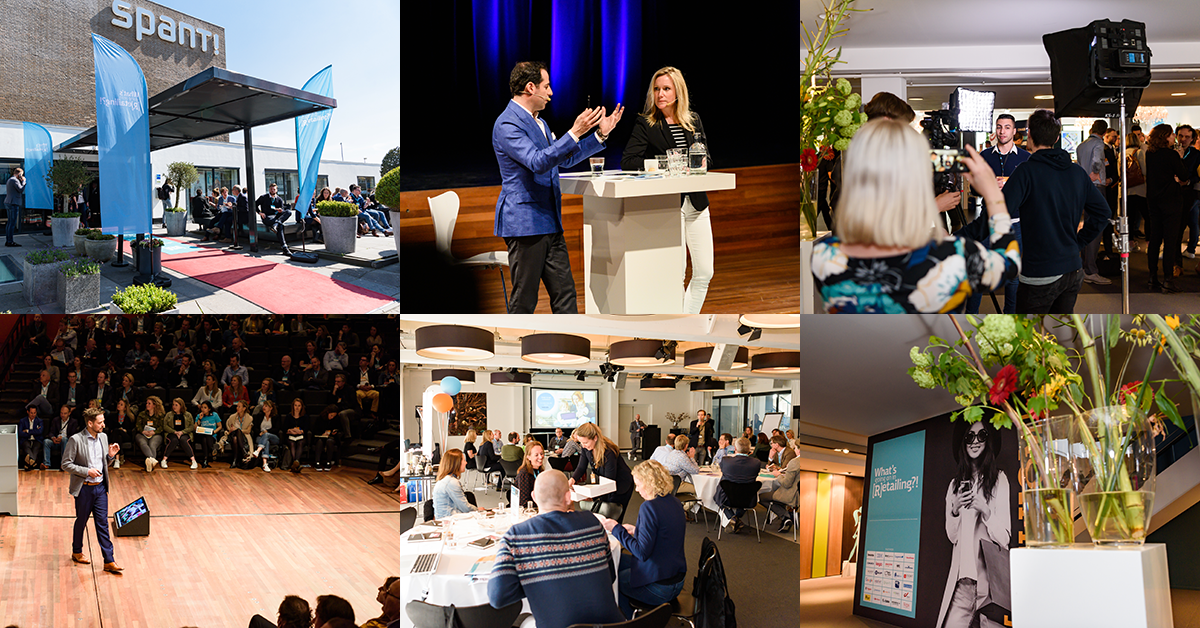 Deze organisaties waren o.a. aanwezig:
Domino's
Euretco
Brilmij Groep
Rivièra Maison
WE Fashion
Dille & Kamille
Dekamarkt
Hans Anders
Foot Locker
Warmteservice.nl
Coop Supermarkten
Bruna
Zeeman
Vomar Voordeelmarkt
JVH gaming & entertainment
Melano
ECCO
IGM
Euro Shoe Group
Bieby
Decathlon
Albert Heijn
Jumbo
Beeline
Philips
Swiss Sense
PLUS Retail
Chasse Theater
Makro
Ambiance
Hudson's Bay
Omoda
Aldi
Coolinvestments
INretail
Lucardi
Frendz
Switch
Welzorg
Bax-shop
AkzoNobel
Triumph International
Eyewish
Intertoys
Charlie Temple
Hema
Van Haren Schoenen
Metro AG
Colruyt
Hunkemoller
Karwei
Fleurop Interflora
Hoogvliet
Dusseldorp Automotive
Dynamo Retail Group
G-Star RAW
Goossens wonen en slapen
Joolz
Libris Blz. BV
Jan Linders
La Place
Bikesportive
Discus Netherlands
Le Nouveau Chef
KPN
America Today
A.S. WATSON HEALTH
FD Media Groep
Spar Holding BV
NV House of Music
Kaartje2go
Pearl
Duifhuizen
Bretoniere Group
Bomont
Vrijbuiter
Intergamma
Japan Tobacco International
Van Boxtel hoorwinkels
Holland & Barrett
GroenRijk Retail
Grandvision
Bol.com
Only for Men
Bouwmaat
FEBO
Bos Group International
IMG
McArthurGlen
Prominent
Heineken
Sissy-Boy
de Bijenkorf
Van den Assem Schoenen
Action
Greetz
Kruidvat
La Bottega
Deleukstetaartenshop
Svedex
Etos
Postnl
Decorette
Sports unlimited
Garcia
Welkoop
Leonidas
Intratuin
Comarch
Procter & Gamble
NewCakes
IJsvogel Retail
VodafoneZiggo
BCC
Esri Nederland
MSNL BV
Peaks
T-Mobile
BM De Sociëteit
B32 Groep bv
RetailSonar
Miss Etam
Wehkamp
Vidrearetail
DGN retail BV
Zinzi
PVH
Jumper Nederland
Schiphol Group
Pers
Vedis
MisterDesign
Obelink
Woonwarenhuis Nijhof
Kega
Lidl
Keessmit
Essenza Home
Trigion Beveiliging
Xenos
ANWR-GARANT
Mud Jeans
Koninklijke Gazelle
Wolkyshop
Hanos
Rituals
Leapp
Bouwmaat
Detailresult
Rijksmuseum
Sports Unlimited Retail

500+ senior level deelnemers uit de retailsector

10+ C-level retailers op het podium

30+ inspirerende retailcases

Ontmoeten, delen en inspireren

20+ interactieve ronde tafels

Heel veel inspiratie en nieuwe ideeën