The [New] Retail Reality
Op donderdag 16 april 2020 staat Rotterdam in het teken van de [nieuwe] retail realiteit! What's going on in [R]etailing?! is een strategisch congres voor Retailers & Consumer Brands en dé plek om inspiratie op te doen en van elkaar te leren. Kernthema's van deze editie:
Sustainability & Transparency
Platforms & Partnerships
AI & Data
Conversation & Personalisation
Naast inspirerende presentaties & interactieve ronde tafels staat er dit jaar ook een leertrack met verdiepende workshops en Start Up Track op het programma.
Dit wil je niet missen toch?
We kijken terug op een zeer geslaagde editie!
Bekijk de Digitale Syllabus Bekijk alle foto's
Over What's going on in [R]etailing?! 2019
Er zijn weinig andere sectoren waar zo veel innovatie plaatsvindt als in de retailsector. Concepten veranderen in snel tempo. De controle verschuift van de retailer naar de consument. Het centraal stellen van deze klant is daarom onvermijdelijk voor retailers die ook in de toekomst succesvol willen zijn en blijven.
Je als retailer onderscheiden is essentieel om loyale klanten te creëren én te behouden. Hoe zorg je ervoor dat je uitblinkt en/of opval op het gebieden als Customer Experience, Storytelling, verbinding tussen online&offline, Flash Sales, Artificial Intelligence en smart data, Conversational Commerce, (in)Store Technology & beleving of bijvoorbeeld delivery service.
Op de 28ste editie van What's going on in [R]etailing?! "creating the difference" gaven vele (inter)nationale retailers, Brands en Start ups een kijkje achter de schermen en vertelde welke strategie zij voeren om onderscheidend te zijn. Raak geïnspireerd en leer van zowel disruptors, gevestigde namen en koplopers in de markt.
Deze organisaties waren o.a. aanwezig:
Domino's
Euretco
Brilmij Groep
Rivièra Maison
WE Fashion
Dille & Kamille
Dekamarkt
Hans Anders
Foot Locker
Warmteservice.nl
Coop Supermarkten
Bruna
Zeeman
Vomar Voordeelmarkt
JVH gaming & entertainment
Melano
ECCO
IGM
Euro Shoe Group
Bieby
Decathlon
Albert Heijn
Jumbo
Beeline
Philips
Swiss Sense
PLUS Retail
Chasse Theater
Makro
Ambiance
Hudson's Bay
Omoda
Aldi
Coolinvestments
INretail
KIN (LucKruiardi)
Frendz
Switch
Welzorg
Bax-shop
AkzoNobel
Triumph International
Eyewish
Intertoys
Charlie Temple
Hema
Van Haren Schoenen
Metro AG
Colruyt
Hunkemoller
Karwei
Fleurop Interflora
Hoogvliet
Dusseldorp Automotive
Dynamo Retail Group
G-Star RAW
Goossens wonen en slapen
Joolz
Libris Blz. BV
Jan Linders
La Place
Bikesportive
Discus Netherlands
Le Nouveau Chef
KPN
America Today
A.S. WATSON HEALTH
FD Media Groep
Spar Holding BV
NV House of Music
Kaartje2go
Pearl
Duifhuizen
Bretoniere Group
Bomont
Vrijbuiter
Intergamma
Japan Tobacco International
Van Boxtel hoorwinkels
Holland & Barrett
GroenRijk Retail
Grandvision
Bol.com
Only for Men
Bouwmaat
FEBO
Bos Group International
IMG
McArthurGlen
Prominent
Heineken
Sissy-Boy
de Bijenkorf
Van den Assem Schoenen
Action
Greetz
Kruidvat
La Bottega
Deleukstetaartenshop
Svedex
Etos
Postnl
Decorette
Sports unlimited
Garcia
Welkoop
Leonidas
Intratuin
Comarch
Procter & Gamble
NewCakes
IJsvogel Retail
VodafoneZiggo
BCC
Esri Nederland
MSNL BV
Peaks
T-Mobile
BM De Sociëteit
B32 Groep bv
RetailSonar
Miss Etam
Wehkamp
Vidrearetail
DGN retail BV
Zinzi
PVH
Jumper Nederland
Schiphol Group
Pers
Vedis
MisterDesign
Obelink
Woonwarenhuis Nijhof
Kega
Lidl
Keessmit
Essenza Home
Trigion Beveiliging
Xenos
ANWR-GARANT
Mud Jeans
Koninklijke Gazelle
Wolkyshop
Hanos
Rituals
Leapp
Bouwmaat
Detailresult
Rijksmuseum
Sports Unlimited Retail
Een greep uit de topsprekers
Kerry Murphy
Founder, The Fabricant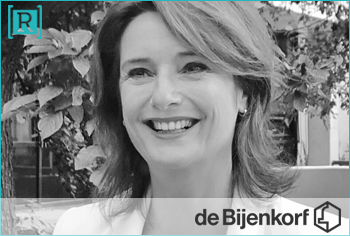 Suzanne van de Velde
Sr. Manager Marketing & Communicatie, de Bijenkorf
Elise Vanaudenhove
CEO België, Euro Shoe Group
Dit zeggen de deelnemers
Een brede retail experience met veel gelegenheid tot netwerken
Goed georganiseerd, interessante onderwerpen en sprekers
500+ senior level deelnemers uit de retailsector
10+ C-level retailers op het podium
30+ inspirerende retailcases
Ontmoeten, delen en inspireren
20+ interactieve ronde tafels
Heel veel inspiratie en nieuwe ideeën